The Orbit Range is where two technologies meet. The flexibility needed by high speed and high performance line machines becomes available on Entry Level horizontal machines to be added to work cells or integrated lines. All Orbit machines are equipped with anti-accident protection applying the most recent, restrictive European safety standards for line machines. Machines were designed to house highly different power and product sealing devices during processing. In this way, Orbit Range machines adapt to different product types, shapes and sizes becoming that ideal range for all industrial sectors.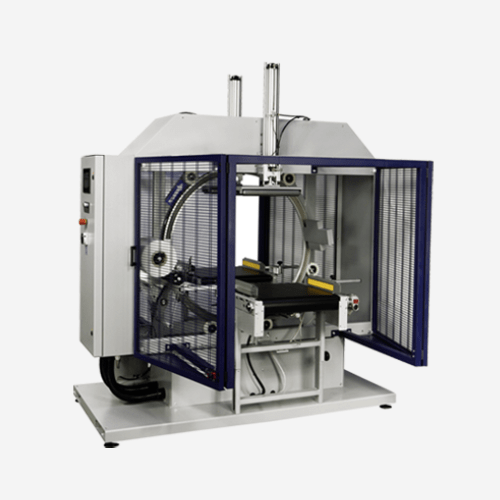 DISTINGUISHING MARKS
RING
The highly resistant rotating ring is supported by high-resistance polyamide resin rollers and it is built in single casting alluminum. This guarantees great strength and reliability of the circular motion.
PRESSURE
The vertical pressure units automatically settle in order to ensure a correct stabilisation of the product during strapping. The length of the run can be adjusted manually to ease positioning of the pressure units on the products of different heights.
SPOOL CARRIAGE
The Spool carriage unit has a direct breaking transmission roller and it is adjustable at any time it also eases spool loading and film insertion to a maximum. The tensioning unit guarantees optimal use of the film during the wrapping process.
This feature is obtained using a mechanical dancer unit. The spool carriage device is equipped with locking and quick release of the spool.
CLAMPING AND CUTTING UNIT
The automatic highly reliable dual rod clamping and cutting system fully automates the wrapping process.
CONTROL PANEL 
The control panel has been newly designed, adopting it to a touch screen. Thanks to the large color screen this new panel allows you to create programs simply and immediately. It is supplied with more memory to record up to eight different programs.
TECHNICAL SPECIFICATIONS
ORBIT 4 – Horizontal orbital automatic wrapping machine
Machine Characteristics
Ring rotation speed:
160rpm
Belt driven ring rotation
STD
Spool holder with frictioned roller
STD
Pneumatic cold clamping/cutting unit
STD
Power infeed and outfeed conveyor belts: L=600 mm
STD
Belt width:
220 mm
Fixed-height belt
800 mm
Infeed and outfeed side guides
OPT
Infeed and outfeed pressors
Roller diameter: 44 mm
Roller length: 240 mm
STD
Variable conveyor speed
8÷17 m/1′
Compressed air consumption:
3.5 NL/cycle
Power supply voltage:
400 V. 3Ph +N- 50/60 Hz
Installed power:
0.9 KW
Film spool characteristics
Max. external diameter (D):
200 mm
Film spool height (h):
50-125 mm
Film thickness:
17-50 µm
Internal diameter (d):
76 mm
SUITABLE FOR THE FOLLOWING PRODUCTS

Layout