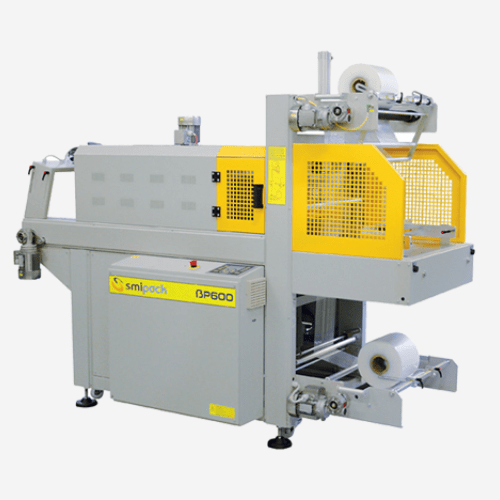 Long-lasting and Efficient
SHRINK WRAPPING MACHINES
at Durapak
A shrink-wrapping machine is used to pack products by encasing them in shrink-wrap film. A thin plastic film called shrink wrap is heated to shrink firmly around the package, creating a safe and tamper-evident seal.
These shrink-wrapping machines enable logistics professionals to overcome weight and space restrictions. Several sizes and types of shrink-wrapping machines are available to meet different packaging requirements.
As one of the top manufacturers of shrink-wrapping machinery, Durapak has led the way in shrink-wrapping technology in India for the past 20 years. Our machines include Semi Auto–Sleeve Wrapper, Mono–Sleeve Wrapper, L sealer and Tunnel, and Chamber Type.
Our range is highly appreciated for its exceptional quality features, as we strive to provide our customers with products that meet international quality standards.
Cost-effective
Shrink wrap is a relatively inexpensive packaging material compared to other options, such as boxes and containers.

Versatility
Shrink wrap can pack various products, including irregularly shaped items.
Durability
Shrink wrap is a strong and durable material that can protect products from damage during shipping.
Shrink Wrapping Machine
- How does it work?
Shrink wrapping machines are commonly used in the packaging industry to wrap products tightly in plastic film for protection and transportation. These machines are designed to wrap a wide variety of products, including boxes, bottles, and other packaging items.
Shrink wrapping machines use a variety of plastic films, including PVC, polyolefin, and polyethene.
At Durapak, our choice of film is polyolefin. DuraShrink films include a revolutionary down-gauging approach, that has proven to be incredibly cost-effective with excellent quality and is the brand of choice for all multinational corporations worldwide.
Overall, shrink-wrapping machines are an efficient and cost-effective way to protect and transport products. They are widely used in the packaging industry for their versatility, speed, and ease of use.
Features and Uses of a
Shrink Wrapping Machine
Shrink-wrapping machines are mainly used in the beverage industry (milk, water, soft drinks, beer, wine, etc.), preserved foods (tomatoes, pickles, sauces, etc.), poultry farming (egg trays), printing industry, stationery, computer industry, household products, cosmetics, pharmaceutical, electric-electronic, plastic, wood, paper, shampoo-detergents, mechanical industry, lubricants, cases & boxes, shelving, logistic, co-packers.
As a shrink-wrapping machine dealer, Durapak collaborates with businesses of all types, sizes, and forms. Our machines are tailored to suit your specific needs and requirements, ensuring that your product wrapping is customised accordingly.
Our automatic shrink-wrapping machines provide packing solutions for various industries, regardless of the sector.
Just name an industry, and we can wrap your products with precision and efficiency as a leading shrink-wrapping machine manufacturer!
Adjustable sealing and cutting mechanisms
User-friendly control panels
Safety features such as emergency stop buttons and safety guards
Efficient and reliable performance for high-volume production
Automatic film feeding mechanisms
Speed-adjustable holders
Adjustable film tension
Longer functional life
"Using a shrink-wrapping machine has been a game-changer for our business. It's made our packaging process faster, more efficient, and more professional-looking. Our customers love the clean, neat finish of our products and we're able to save money on packaging costs too! Highly recommend this one for business owners!"
"As a small business owner, I was hesitant to invest in a shrink-wrapping machine at first, but I'm so glad I did. It's taken our packaging to the next level and made our products look much more polished. Plus, the machine is easy to use and maintain. Definitely worth the investment."
"We've been using shrink-wrapping machines in our manufacturing facility for years and they've been a real workhorse for us. The machines are reliable, easy to operate, and have drastically reduced our packaging time. We can now package our products faster than ever before, which has allowed us to increase our output and grow our business."
Want to Know More About
Shrink Wrapping Machines
at Durapak ?