As one of the prominent and leading manufacturers in Chennai, we offer the finest quality strapping machines. Our strapping machines are available in various configurations and sizes for effortless carrying, storage and transportation purposes.
Types and how
does it work?
Our strapping machines include semi-automatic, automatic and pallet strapping machines. Our strapping machines stretch the PP Straps automatically to strengthen them on the product and join them by melting the straps together by applying heat to the joint.
Our company deals in a wide assortment of automatic and semi-automatic machines, a revolutionary range of machines that suit the packaging requirements of different domains and industries.
Usage of
strapping machines:
Strapping machines are used for quickly wrapping small or large amounts of the product.
They are used by several industries, which helps to cut down on time and costs by automating the process of machines.
Industries such as food, packaging, and newspaper printing use strapping tools for their effortless use and effective productivity.
SMBs who require machines for adequate packaging and shipping use the strapping tools.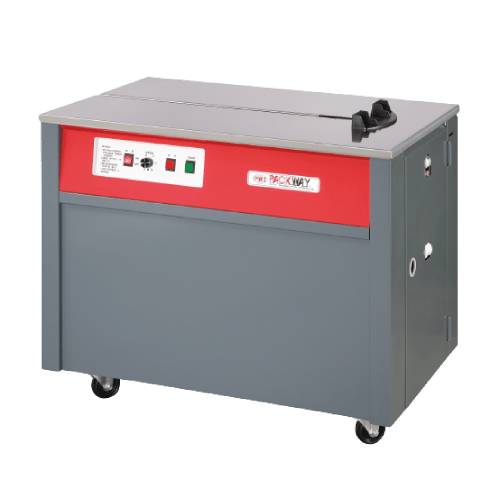 Semi Automatic Machines
Our semi-automatic strapping machines are highly compact, which ensures high mobility.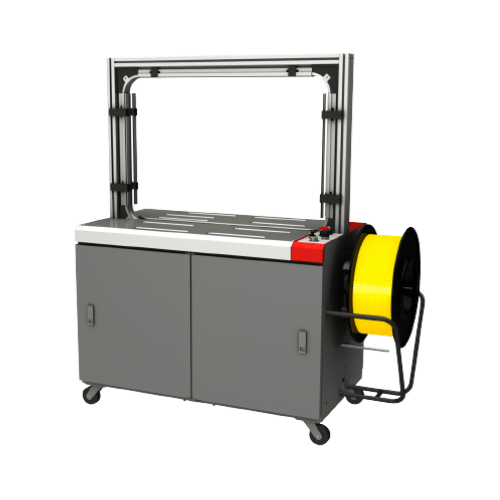 Fully Automatic Machines
The fully automatic strapping machines are developed with state-of-the-art innovative designs.
Warrant matchless productivity with easy maintenance
Round-the-clock service with easy loading &unloading
Unparalleled packing machines with self-diagnostic monitoring system
Automatic strap placement
End-to-end solutions and stringent quality control norms
Highly economical and multiple packaging solutions
Pneumatic strapping tool
We offer a wide range of pneumatic-powered steel strapping tools that ensure the strap's speedy and steady efficient tensioning. Our exquisitely designed pneumatic strapping tools are meant for shaping irregularly shaped products with steel straps.
Our strapping tools have a long service that gives you a smooth service performance. The strapping tools deliver satisfactory results that are easy to install and maintain.
The pneumatic strapping tools are easy to use and require little maintenance, making them ideal for various packaging applications. We offer pneumatic strapping tools with different technical specifications to meet the specific needs of our customers.
Features:
Easy maintenance
User-friendly machines & tools
Consistent performance & self-adjustable strap
Cutting-edge services
Stringent quality norms
Battery-operated strapping tool
We have been prominent manufacturers among the leading suppliers and traders of high-quality battery-operated strapping tools for several years. Our strapping tools are made from top-notch industrial materials that promise strong service life.
This tool is made to meet international customer standards and is developed with advanced techniques. Our strapping tool is acclaimed for its excellent finish, effective results, and durability.
Features:
Reliable
Easy maintenance
Long service life & automatic welding strapping
Self-adjustable strap
Powerful and speedy operations
Hypercharge technology enables the BOSCH battery to charge faster
What Our
Clients
Are Saying
Several strapping tools have been purchased from Durapak over the last 7-8 years that promise portable force gauges. These tools are used for effective strapping solutions, which ensure speedy operations. Their team of experts are always approachable for queries or any repairs.
We have been collaborating with Durapak for more than three years. It is one of the top strapping machines, and we are happy to be with its strapping machines. We are delighted with the service life and longevity of the machines.