Carton PW-553S Side Drive
Interested in our Products?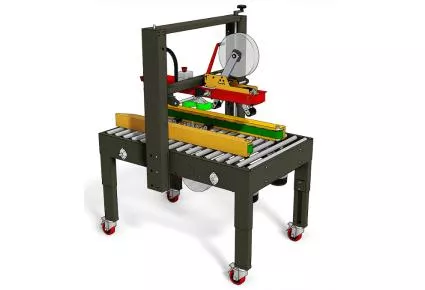 Carton PW-553S Side Drive
Description
Upgrade from manual case-sealing to an automated case-sealing machine with ease using this solution. It offers simple operation and allows for adjustments to the sealing width via a handle on the side and height via a handle on the top. This machine is particularly well-suited for uniform operations involving tall or slim boxes.
With its robust design, straightforward operation, and ease of maintenance, this machine is a reliable choice.
Made in Taiwan, you can rest assured that it comes with quality assurance.
Specifications
Power
1 Phase, 110/220V, 50/60Hz
Tape Head
C-1
OPP
2″/3″

(Please advise when ordering)

Min. Sealing Size (LxWxH)
2′ OPP

>150 x 120x 85 (mm)

>5.9 x 4.7 x 3.3 (in)

3″ OPP

>150 x 145x 85(mm)

>5.9 x 5.7 x 3.3 (in)

Max. Sealing Size

(LxWxH)

2′ OPP:

∞ x 500 x 500 (mm)

∞ x 19.7 x 19.7 (in)

3′ OPP:

∞ x 500 x 500 (mm)

∞ x 19.7 x 19.7 (in)

Tape Overlap
2′ OPP : 60±5 (mm) 2.4±0.2 (in)

3′ OPP : 40±5 (mm) 1.6±0.2 (in)

Working Table Height
570~810 (mm)

22.4~31.9 (in)

Max Loading Weight
30 (kg)

66 (lb)

Capacity
30 boxes/min.

For box length 300mm (Belt speed 20M/min)

Net Weight
148 (kg)

326.3 (lb)

Machine Size (LxWxH)
1280 x 946 x 1396~1761 (mm)

50.4 x 37.2 x 55 ~ 69.3 (in)
Features:
Mechanical Aspect:
Tape-end fix device
Both side compression rollers
Top mast with cushion to avoid case jammed.
Casters with brake
Manual adjustment for different box sizes
Roller Table
Applications:
Options:
Mechatronic Aspect:
60 sec. auto-stop (power saver)
3 phase, 220/380/415/440V
Mechanical Aspect:
Extension roller table L370/500xW530mm
Tape overlap 70±5mm
Tape overlap 95±5mm
customize sealing size
Outside diameter of OPP Tape 340mm (13.5″)
System Aspect:
could combine with case erector, or case strapper
Special Needs:
Stainless steel structure SUS #304