Interested in our Products?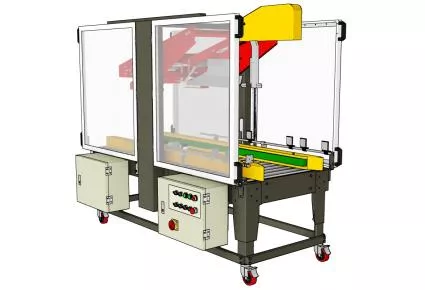 Description
Flap Folding Carton sealer and carton sealing machine designed for sealing random carton sizes. It automatically closes and seals the top flaps, making it suitable for all general-shaped boxes.
Specifications
Power
3 Phase, 220/380/415/440V
Air Sipply
6kgf/cm2 (137.64L/min.)

85.3 lb/in2

Tape Head
C-1
OPP
2″/ 3″( Please advise when ordering)
Min. Sealing Size (LxWxH)
300 x 200 x 160 (mm)

12 x 7.9 x 6.3 (in)

Max. Sealing Size

(LxWxH)

500 x 500 x 500 (mm)

19.7 x 19.7 x 19.7 (in)

Tape overlap
2′ OPP: 60±5 (mm) 2.4±0.2 (in)

3′ OPP: 40±5 (mm) 1.6±0.2 (in)

Working table height
550~810 (mm)

21.7~31.9 (in)

Max. loading weight
30 (kg)

66 (lb)

Capacity
approx. 5 boxes/min. For box length 300mm (Belt speed 20 M/min)
Net Weight
330 (kg)

728 (lb)

Machine Size (LxWxH)
2086 x 1139 x 1672~1932 (mm)

82.1 x 45 x 66~76 (in)
Features
Suitable for a wide range of box sizes.
Easy to operate.
Mechatronic Aspect:
PLC (Programmable Logic Controller).
Automatic mechanism for folding the top flaps.
Automatic compression rollers.
Mechanical Aspect:
Top mast equipped with cushioning.
Safety fences.
Casters with brakes.
Roller table.
Applications:
OPTIONS:
Mechatronic Aspect:
60 sec. auto-stop
Detection for no tape, sealing failure,and tape not cut off
Mechanical Aspect:
Safety fences
Extension Roller Table
Tape overlap 70±5mm
Tape overlap 95±5mm
Customize sealing size
Outside diameter of OPP Tape 340mm (13.5″)
System Aspect:
Combine with carton erector, or strapping machine
Special Needs:
Stainless steel structure SUS #304