Semi-automatic L-sealer Tunnel
Interested in our Products?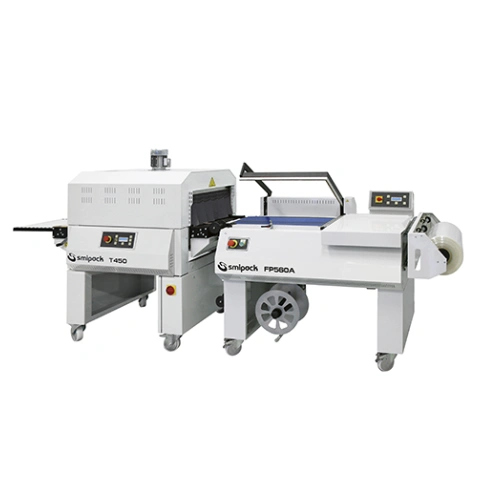 Semi-automatic L-sealer Tunnel
The semi-automatic and automatic "Full Electric" packers with L-sealing system from the FP series are characterized by great quality/price ratio and modularity. All models of this range can indeed be supplied with or without shrink tunnel.
The INOX version of these machines is ideal for meeting the needs of the food industry; it features a stainless steel frame (AISI 304) and is equipped with a conveyor belt in compliance with FDA, UE and USDA regulations for contact with food.
Compared to the traditional L-sealers, the FP series provides higher outputs as well as the possibility of using Polyethylene film, besides the traditional shrink films, and includes different models for outputs ranging up to 3600 packs/hour.
Technical Features
Power supply
220 – 240 V
1PH + N + PE
50/60 Hz
Installed power
2500 W
Sealing bar
560 x 430 mm
Maximum pack height
230 mm
Speed of conveyors
19 m/min
Output up to
1500 pph **
Maximum size of film reel
600 – ø 300 mm
Machine size
2010 x 790 mm
h 1050 mm
Machine net weight
148 Kg
Usable Films: Pvc, Polyolefins and Polyethylene
up to 50 µ
(**) Packs per hour. The stated speed can change according to the product size, the pack collation and the type of film used.