Strapping Machine PW-0860CS2R
Interested in our Products?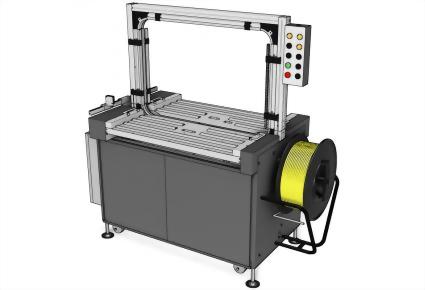 Strapping Machine PW-0860CS2R
Description
CAT: Aluminum Arch with Automatic Strap Threading and free roller table.
Easy operation & Easy maintenance
Specifications
Power
3Ø 220V/380V/415V/440V, 50/60Hz
Strapping Head
Standard Type
Standard Arch Size

(WxH)

850 x 600 (mm)

33.5 x 23.6 (in)

PP Strap Width

(mm)

9,12,15,19
Strapping Tension
0~70 (kg)

0~154.3 (lb)

Strapping Speed
25 strap/min
Max. Load
20 (kg)

44 (lb)

Working Height
810 (mm)

31.9 (in)

Machine Size

(LxWxH)

1595 x 700 x 1535 (mm)

62.8 x 27.6 x 60.4 (in)
Features
Mechatronic Aspect:
Logic relay control
Sensors for automatic strapping
Mechanical Aspect:
Strap dispenser with belt brake
Foldable Roller Table
Mechanical Tension adjustment
Double cams for long lasting machine operation.
New generation heating element suitable for PP and PET strap use, requires less initial heating time.
Reinforced strap feed shooter structure gives much longer operation time before changing it.
Aluminum Arch:
Increase strapping accuracy and reduce turn over strap, or tilted band position.
2 times lighter than the steel arch for handling.
Modular extension, easier to add extra height or to replace a damaged section
Easier to change wearable parts than the steel arch.
Applications
Optional:
Mechatronic Aspect:
PLC control integration
Detection for strap feeding not to strap position
Detection for no strap
PET strap sealing
Single Phase 1Ø , 110/220, 50/60Hz
Enhanced PCB for faster cycle speed. (up to 36 straps per minute)
Mechanical Aspect:
Pneumatic top press mechanism (Tighter strapping)
Other arch size made on request
PET strap
Dispenser I.D. 9″ (230mm)
Extension conveyor
Casters with brake
Special Needs:
Stainless steel structure SUS #304