Wrap-around case packers with case formation and closure in continuous to pack products into cases or into trays.
– possibility to control all machine functions
– easy and precise size change
– high flexibility to handle every kind of container
– machine automatic check-up
– easy maintenance
– high accessibility
– machine solid and reliable
Suitable For The Following Products
| | |
| --- | --- |
| Bottles | (P.E.T. / GLASS / HDPE) |
| Cans | (ALUMINUM / STEEL) |
| Pots | (P.E.T. / GLASS / HDPE) |
| Multipacks | (CLUSTER, FILM, ASTUCCI) |
| Bricks | |
GOLD [email protected] (up to 60 packs/min) WA Case packer / Tray
Technical Specifications
Gold [email protected]
60 PPM
Overall length
mm
11640
inches
458.27
Machine width
mm
2120 (+ 1560)
inches
83.46 (+61.42)
Working height
mm
1070 – 1365
inches
42.1 – 53.7
Total power
kW
14.60
Air consumption
Nl/min
150
Air pressure
BAR
6
ELECTRONICAL CONTINUOUS SEPARATION SYSTEM (PATENTED)
Control by photocells for correct product position and for minimum product accumulation in each lane, control for the fallen product. Continuous separation system driven by servomotors to separate products through a double couple of teeth with lower introduction between the products.
PRODUCTS TRANSFER GROUP WITH BARS
After the collation of the products into the required configuration, the block of the products is transferred to couple with the tray or the pad. The group is complete with plastic lateral guide rails in order to obtain a perfect products compacting. The group is equipped with torque limiter that safeguards the bars group from eventual accidental stops.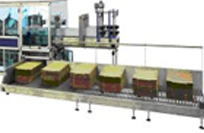 MAGASINE AND BLANK PICK-UP
The blank is picked up from the magazine by a device with suction cups and vacuum. The magazine is adjustable and has an high capacity. The magazine is fully accessible for easier and faster loading. The patented pick-and-place system ensures maximum precision and reliability.
CASE FORMATION (PATENTED)
The case is formed "in-line". After the product has been coupled with the blank, the internal flaps are folded and the hot melt glue is applied; then the top of the case is folded and finally the external flaps are folded.
DRIVE MODEL
All machine functions are controlled by a touch screen panel.
SIZE CHANGE
Size change is achieved electronically through the operator panel and with simple adjustments through hand wheels and digital counters.